Rogers Hometown Hockey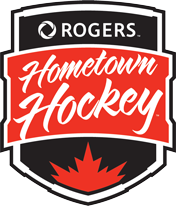 Mercredi 24 Février 2021
Through Team Rogers Training Camp and the Rogers Hometown Hockey Viewing Party, hockey fans from coast-to-coast can virtually meet their favourite NHL® players, past and present, right from the comfort of their own homes.
How can you help?
E-mail this info and shareable PDF toyour minor hockey contacts, community, and friends/ family and encourage them to sign up;
Share the info on social media (graphics and visuals are attached)
Please see some key details about these programs below and a sharable PDF attached.
Rogers Hometown Hockey Viewing Party
What is it?
Hockey fans can be featured LIVE on Hockey Night in Canada! Cheer on your favourite team alongside Ron MacLean, Tara Slone and an NHL® Alumni. Plus, prize giveaways, a hot stove Q&A, and more! Enter now for a chance to show your community pride live on Sportsnet!

How do I apply?
Visit Sportsnet.ca/HometownHockey to enter now!
The contest will be open from now until May 5th, 2021.
Team Rogers Training Camp
What is it?
Team Rogers Training Camp lets you workout LIVE or on demand Team Rogers athletes for FREE, including Connor McDavid, Bo Horvat, Mark Scheifele, and Bianca Andreescu. Whether you're a beginner, intermediate, or family that wants to stay active, you are sure to find a workout that's right for you!
How do I join?
Visit Rogers.com/TeamRogers to sign up now!
Team Rogers Training Camp is FREE for everyone, so we encourage you to sign up now to reserve your space.
Cet article vous a plu ? Partagez le!
x
Terme d'utilisation Shark Média & Sport
L'ensemble du contenu de ce site est privé et purement informatif. Les droits du visiteur de ce site ne peuvent par conséquent pas provenir du contenu de ce même site. Ce site est exploité par et a été créé par SHARK MÉDIA & SPORT. Les données contenues dans ce site Internet sont la propriété intellectuelle de et sont protégées par des droits d'auteur. Ces données ne peuvent être copiées ni reproduites sans l'accord préalable de ou SHARK MÉDIA & SPORT sauf dans le cadre nécessaire à la consultation en ligne. Vous pouvez toutefois imprimer des pages entières du site pour des usages personnels. Pour en savoir plus sur l'utilisation de ce site veuillez communiquer avec SHARK MÉDIA & SPORT.