Rogers Hometown Hockey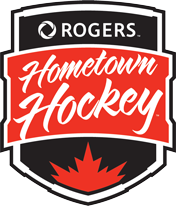 Wednesday February 24, 2021
Through Team Rogers Training Camp and the Rogers Hometown Hockey Viewing Party, hockey fans from coast-to-coast can virtually meet their favourite NHL® players, past and present, right from the comfort of their own homes.
How can you help?
E-mail this info and shareable PDF toyour minor hockey contacts, community, and friends/ family and encourage them to sign up;
Share the info on social media (graphics and visuals are attached)
Please see some key details about these programs below and a sharable PDF attached.
Rogers Hometown Hockey Viewing Party
What is it?
Hockey fans can be featured LIVE on Hockey Night in Canada! Cheer on your favourite team alongside Ron MacLean, Tara Slone and an NHL® Alumni. Plus, prize giveaways, a hot stove Q&A, and more! Enter now for a chance to show your community pride live on Sportsnet!

How do I apply?
Visit Sportsnet.ca/HometownHockey to enter now!
The contest will be open from now until May 5th, 2021.
Team Rogers Training Camp
What is it?
Team Rogers Training Camp lets you workout LIVE or on demand Team Rogers athletes for FREE, including Connor McDavid, Bo Horvat, Mark Scheifele, and Bianca Andreescu. Whether you're a beginner, intermediate, or family that wants to stay active, you are sure to find a workout that's right for you!
How do I join?
Visit Rogers.com/TeamRogers to sign up now!
Team Rogers Training Camp is FREE for everyone, so we encourage you to sign up now to reserve your space.
Did you like this article? Share it!
x
Term of use Shark Media & Sport
The content of this site is private and purely informative. The rights of a visitor to this site cannot, therefore, be derived from the content of this website. This website is operated by and was created by SHARK MEDIA & SPORT. The data contained within this website are the intellectual property of and are copyright-protected. The data herein cannot be copied or reproduced without the prior consent of or SHARK MEDIA & SPORT, other than in contexts requiring on-line searches. However, you may print out entire pages of this site for personal use. For further information about the use of this site, please communicate with SHARK MEDIA & SPORT.